Crab & Cruise

You're invited to join CrabPlace.com fans in Crisfield, MD for the 2014
Crab Feast & Bay Cruise
July 26
Sept 27

Product Search
Find what you need fast.

Sending Gifts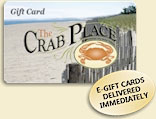 Media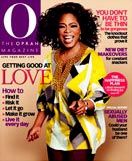 Testimonials
The Crab and Cruise event was a blast. It totally exceeded my expectations. The food, service, entertainment and everything was outstanding. Not one negative from this guest. I met people from all over and the event had a spirit that I will never forget. Please keep me on your mailing list. I'm ordering my crabs today for the 4th of July and I can't wait to sit down and "get crackin".
If I had one suggestion it would be to keep the cruise part "adults only". Although there was nothing risque that occurred I just think it would be better with no little ones tagging along. Just a thought. All in all my husband and I had a great time. I'm ready to sign up for September. Hope you can bring back Smitty and the On the Edge band. They were awesome!
John & Geri D.
Fredericksburg, VA
---
I had a fabulous time this weekend at the fest. Crisfield, MD is a very nice, friendly little area. We felt very safe wandering in the city. The band was the best i've heard in a very long time. Dance, Dance, Dance GREAT everybody needs to let their hair down. I truly appreciated the diversity amongst the crowd.
Lana M.
Newfield, NY
---
I have just been looking at Patty Hancock's photographs of the Crab & Cruise event in Crisfield on September 25. I have to say it brought back very happy memories for me. My trip to Crisfield remains one of my most favourite 'foreign adventures!' It is sad that I no longer have contact details for Val and Frank Guetens, or indeed the two charming ladies that I met at the sea-food festival all that time ago!
Sid C.
Southampton, England
---
Had a great time at the crab feast and cruise. Met some wonderful people. It was excellent. Can't wait to do it again. Great weekend all the way around.!!!!!
Randall E.
Goochland, VA
CrabPlace.com Crab Feast & Bay Cruise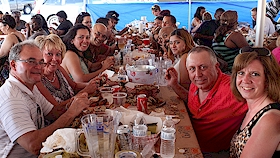 2014 Crab & Cruise Tickets
Get 'em while they last! Limited seating.
The Crab & Cruise attracts hundreds of Maryland seafood lovers from across the country to the Crab Capital of the World.
Come to Crisfield and feast with us on all-you-can-eat Maryland blue crabs, steamed clams, Adams famous bbq ribs, and more. Then embark on a gorgeous Chesapeake Bay sunset cruise and dance the night away with Anything Goes.
For the night owls The Crab Place party continues with a deejay and dancing at the Olde Crisfield Crab House Tiki Bar directly beside Tangier Island Cruises.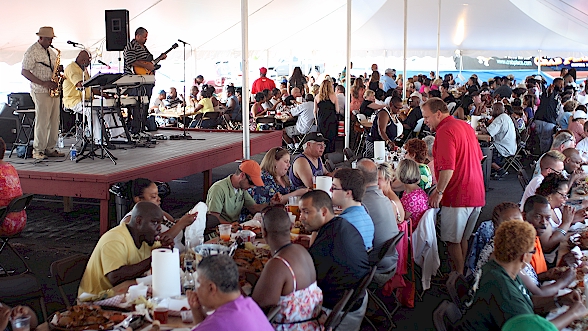 | | | | |
| --- | --- | --- | --- |
| September 27 | June 21 | June 28 | July 26 |
Come Early!

There's Plenty To Do On Friday

Travel by boat to Smith Island. Later, take a sunset cruise around Crisfield in a pontoon boat. Then gather with The Crab Place staff for a casual kickoff party from 8PM until 1AM.

Cancellation & Weather

Cancellation policy—Our events typically sell out several weeks before the event date. This forces us to turn customers away after we reach capacity. Seven days before the event date all ticket sales become final. A full refund will be issued if a cancellation is requested more than 7 days before the event date.

Inclement weather—Barring severe weather (i.e. hurricane, tornado, tropical storm, etc), this event is rain or shine. The crab feast is held under a tent so guests are protected from the elements. If weather prohibits us from having the boat cruise, we'll continue the entertainment under the tent.

While You're In Crisfield

Sept. 27

Crab & Cruise

All-You-Can-Eat
Crab Feast and
Bay Cruise

Menu

Fresh steamed Maryland Blue crabs, Adam's Ribs™ famous ribs, steamed clams, corn on the cob, hush puppies, fries, meatballs, BBQ chicken wings, cucumber salad and Smith Island cake.

$99.95

per person

$109.84 after 18% gratuity added for the crab feast portion of the event.

Sept. 27

Crab Feast

Crab Feast Only

$59.95

per person

$69.84 after 18% gratuity added.

A Note to CrabPlace Fans from Greg

We can fit 150 people on the cruise boat along with the band and the staff who cater to the crowd. The boat will be comfortable and the attention to the customer will be superb. Tickets will sell out quickly because of the limited quantities. Order early to guarantee a spot on the date you want.

We're anticipating starting the feast at 4pm and heading for the cruise ship around 7pm. That's usually when people are comfortably full. You won't be rushed. Nor will you fall asleep in a pile of crab scraps waiting for the boat to set sail.

The Crab & Cruise really is a super event. The first one we threw several years ago brought folks from all over the country (CA, WI, MO, TX, etc). They had the best time. I've never had so many people tell me they'd just experienced the greatest night of their life. Of course many of them were feeling the effects of the seasoning rinse, if you know what I mean. But it was a great night and we all had a blast.

The next year saw a guy attend from England. It was the first time he'd ever been to the States. He stole the show. He sang in a band over in England, and the band on the boat let him perform a song with them. He was a great guy and that was a priceless moment. No doubt this will be an event to remember as well.

See you there!

Greg

See Pictures!

Testimonials

What a simply amazing event and cruise! This is the "real Maryland"... eating steamed crabs and then taking a cruise on the Chesapeake Bay! ALL of the food was wonderful, and the band was simply amazing. Go, Smitty! We are looking forward to the next Crab and Cruise!

Steve P.
Columbia, MD

---

We had such a wonderful time Saturday at the Crab & Cruise. Met some wonderful people out there in Crisfield. Thanks CrabPlace.com. Also it was so nice to meet Ms. Laverne Johnson and family. Will definetly be back next year....and with a larger crew next time.

Vickey R.
Washington, DC

---

great time great people great food and know how to party enjoyed myself will be back next year

Bo H.
Midlothian, VA

---

"I think we're gonna need a bigger boat" next year because once we all spread the word about how much fun we had, attendance will double.

Larry M.
Fort Mill, SC