Stuffed Island Seafood Caravan
Ingredients:
1/2 pound lump crab meat
1/2 teaspoon Old Bay Seasoning
3 soft shell crabs (thoroughly cleaned with just body used)
salt and pepper to taste
1 egg, slightly beaten
2 tablespoons mayonnaise
roll or bread (crushed)
1 teaspoon mustard
parsley flakes
2 slices bread (slightly moist)
2 tablespoons diced onion
Preparation Instructions:
Mix crab meat, mayonnaise, mustard, bread, onion and seasoning. Shape in balls, dip in beaten egg and roll in bread crumbs. Drop in hot oil. Cook until golden brown on both sides. Remove from oil; drain on paper towels. Put on plate with parsley snips and lemon slices and pineapple slices around Island Seafood Caravan. Then have hot sauce or pickle sauce to use to eat with them. Hot Sauce: 1 teaspoon ketchup 1 teaspoon vinegar 1 teaspoon Old Bay Seasoning pinch of pepper Sweet Pickle Sauce: mayonnaise ketchup sweet relish 1 tablespoon sugar
» This recipe is credited to Ms. Betty Rae Tyler of Ewell (Smith Island), MD and took second place honors in the 1981 National Hard Crab Derby in Crisfield, MD.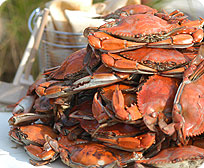 Did you know?
"Chesapeake" is a Susquehanock word meaning "great shellfish bay."


"It was absolutely scrumptious. Crabcakes for dinner on Friday, breakfast and lunch on Saturday. We were in bliss."
Constance C., Michigan


Similar Recipes