Shipping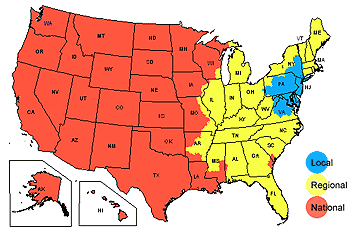 National, Regional, and Local
We try as hard as we can to reduce shipping costs for our customers. We offer discounted weekday shipping to some parts of the United States. To see if your order qualifies for discounted shipping, type the "ship to" zip code into the text box below.
NATIONAL
REGIONAL
LOCAL

National:

National customers must select a shipping service other than FedEx Ground. For more information about the shipping options
for your location, type your "ship-to" zip code into the text box above.

Regional & Local:

Most local and regional customers may choose any of the four shipping services. For more information about the shipping options for your location, type your ship-to zip code into the text box above.
Product Total
Ground
2Day Air
Standard Overnight
Priority Overnight
$0.00 - $74.99
$19.95
$29.95
$49.95
$66.95
$75.00 - $149.99
$19.95
$34.95
$59.95
$76.95
$150.00 +
$19.95
$44.95
$69.95
$86.95
Delivered by
End of Day*
7:00 PM*
4:30 PM*
1:30 PM*
* Most of the country is given the choice between FedEx Standard Overnight (guaranteed typically by 8:00 pm depending on location) and FedEx Priority Overnight (guaranteed by 10:30 am-1:30 pm depending on location). However, in less populated areas FedEx Priority Overnight may be the only overnight Air delivery option and in those cases the commitment time is by end of day. Please enter your delivery zip code above and click submit to find out what delivery options are available in your area. Thank you.
No Sundays or Mondays:
There are no Sunday or Monday deliveries. Orders shipped using FedEx 2Day Air® cannot be delivered on Tuesdays. Available delivery days are Tue-Sat for overnight packages and Wed-Sat for all 2 day shipping methods. A $15.00 Saturday surcharge apply for all Saturday deliveries using air shipping. Ground deliveries for Saturday (where available) does not incur the additional Saturday surcharge.
Your order:
Because nearly all of our products are perishable, shipping them takes thought and careful planning. We've come up with our own fresh pack system that keeps perishables cool in transit for up to 48 hours. We take care to arrange your seafood in specialized boxes designed to keep your order in top-notch condition. There is no charge for packing materials.
Cut-off times:
Cut-off time for orders is 3:00 p.m. EST, Monday through Friday. Please call 1-877-328-2722 to check availability and to place your order by phone during regular business hours. Orders may be placed over the Internet at any time, day or night.
Delivered-by times:
Guarantee times may vary depending on "ship-to" zip code.
FedEx:
All orders are shipped via FedEx. Our customers may visit the FedEx website at www.fedex.com, or call them toll-free at 1-(800)-GO-FEDEX.
Saturdays:
Saturday delivery is available in most areas. Saturday deliveries may be shipped using FedEx 2Day Air or FedEx Priority Overnight® service. In addition, there is a $15.00 surcharge for all Saturday deliveries. When requesting Saturday delivery to rural areas, please call in advance to check availability. FedEx ground delivery is available on Saturday to those who qualify. Saturday ground deliveries do not carry the additional surcharge.
Hawaii and Alaska:
All orders to Hawaii or Alaska will be charged an additional $10 shipping surcharge. At this time, due to customs restrictions on perishables, we only serve the 50 U.S. states.
Packaging:
All orders are shipped in insulated Styrofoam boxes and refrigerated using gel packs and/or dry ice. There is no charge for packing materials.
Live crabs:
Live hard crabs and live soft crabs delivered outside of a next-day ground area must be shipped using FedEx Priority Overnight® to ensure fresh delivery.
Steamed crabs:
Steamed hard crabs cannot be shipped using FedEx 2Day Air®.
More than one bushel:
Orders of more than 1 bushel of hard crabs must be placed separately. If you would like to order more than 1 bushel, you may do so by placing a separate order for each bushel. Applicable shipping charges will be applied to each order.
Non-perishables:
Orders consisting of only non-perishable items may be shipped FedEx Ground for $7.95.
Gift Cards:
Gift Cards are shipped free via USPS.
Order Tracking:
Customers can track their orders from the Track Order page. Order tracking is for orders going FedEx only. Gift cards shipped via USPS won't have tracking availability.