Crab & Cruise

You're invited to join CrabPlace.com fans at the
2014 Crab Feast & Cruise
on June 21 at The Crab Place™ in Crisfield, MD.

Product Search
Find what you need fast.

Sending Gifts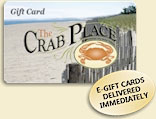 Media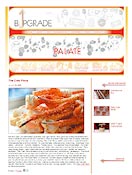 Guaranteed Lowest Price Online

-

Easy checkout lets you pick the EXACT date of arrival!
Louisiana Crawfish

Crawfish

Wild caught from freshwater estuaries in Louisiana, our crawfish are already cooked and seasoned, and then fully frozen.

Crawfish Special


5-Star Review
As always, the BEST of Maryland Seafood, delivered as promised. The hard crabs are always perfectly steamed, the crab cakes full of crabmeat, NOT filler, t...
More
See All Reviews
| | |
| --- | --- |
| | |
Louisiana Crawfish

Reheating—To reheat crawfish, place them in a steaming basket with a few inches of water at the bottom of the pot and steam for about 5 minutes or until the crawfish are piping hot.

Seasoning—If you want to be more adventurous, try the following preparation method: fill a stock pot with water until it reaches about 4-inches up the side. Add in ¼ cup white vinegar and 8 ounces beer over high heat. Layer the crawfish in a steaming basket and seasoning every layer with a sprinkle of Old Bay seasoning. You will end up using about ¼ cup of Old Bay seasoning for a mild flavor. When the water starts to boil and steam, add the basket of crawfish and cover it with a lid. When the water begins to boil again and the steam resumes, cook the crawfish for 5 minutes or until piping hot. Turn the crawfish out onto a tray and dig in!

Recipe

Seafood Potpie with Crawfish and Shrimp
1 pound medium shrimp, shelled and deveined
1 pound crawfish tails, shelled and chopped
1 onion, finely chopped
1 cup cooked white rice
½ cup frozen green peas
1 baked potato, peeled and cut into ¼-inch cubes
1 15-ounce can corn chowder
½ cup heavy cream
1 teaspoon kosher salt
Puff pastry or pre-made pie crust, enough for six 5-inch-wide ramekins

This is a childhood favorite of mine, so full of comfort and flavor. My great-grandmother Susanna made potpies every Sunday. No one ever wrote down the recipe, so this is my best guess. She would have made the pie crust by hand and shelled and shucked her own peas and corn. This recipe cuts a few corners and uses crawfish and shrimp instead of chicken, but is still delicious.

Preheat the oven to 350 degrees with two racks placed at least 5 inches apart.

In a large bowl, combine the shrimp, crawfish, onions, rice, peas, potato, corn chowder, cream, and salt. Mix everything until well combined. Evenly divide the mixture among six ramekins (about 2 inches deep). Cut out 6 pastry discs from the pastry large enough to cover the tops of the ramekins with an extra ½ inch overhang. Either drape the pastry over the shrimp mixture and gently press on the pastry until it is secured against the ramekin, or, to make a traditional crust, fold over the extra pastry and pinch it between your fingers to make a rim. Place the ramekins on two sheet pans with a piece of foil tented over them and bake for 20 minutes. Remove the foil and bake for another 10 minutes, or until the crusts turn golden brown. Serve the pies with a fork and spoon. Careful, the contents are mighty hot!

Yield: 6 servings

Find more great CrabPlace.com recipes and reviews on Facebook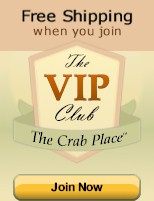 Free Shipping on
Crawfish
when you Join
$20 Off All Air Orders
Exclusive Deals & Discounts

It's Why So Many Trust Us for Fantastic Seafood

Cajun Crawfish