Crab & Cruise

You're invited to join CrabPlace.com fans at the
2014 Crab Feast & Cruise
on June 21 at The Crab Place™ in Crisfield, MD.

Product Search
Find what you need fast.

Sending Gifts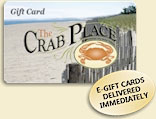 Media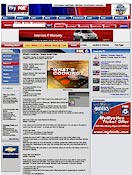 Guaranteed Lowest Price Online

-

Easy checkout lets you pick the EXACT date of arrival!
Fresh Scallops

Scallops

We only offer premium "dry" scallops. No water is added to the product during processing and therefore no shrinkage of the scallop during cooking. Our fresh scallops retain their sweet, buttery, delicate flavor whether baked, sautéed, broiled, fried or marinated. Great as an entrée, with pasta, chopped into salads or in soups.

Jumbo Scallop Special


5-Star Review
As always, the BEST of Maryland Seafood, delivered as promised. The hard crabs are always perfectly steamed, the crab cakes full of crabmeat, NOT filler, t...
More
See All Reviews
| | |
| --- | --- |
| | |
Fresh Scallops

Fresh scallops suit a variety of menus from traditional to casual. Sweet and tender, they are delicious baked, sautéed, stir-fried, or marinated. They're an excellent source of vitamins, minerals and high-quality protein, and extremely low in fat.

Heat a pan, season the scallops lightly and sear, in just a little oil or butter, for only 30 seconds on each side. As soon as they turn opaque, they're done.

Recipe

Scallops With White Wine Sauce
8 ounces pasta or rice
1 tablespoon unsalted butter
½ cup onion finely chopped
1 cup dry white wine
2 tablespoons white wine vinegar
¾ cup heavy cream
1 tablespoon finely chopped parsley
Salt and pepper
½ pound sea scallops

Cook pasta or rice according to directions. In a medium skillet, melt butter over medium heat and cook the onion for 2 to 3 minutes. Add the wine and vinegar. Bring to a simmer. Cook liquid until it starts to thicken. Stir in the cream, parsley, salt, pepper and scallops. Simmer the scallops for about 2 minutes or until done. Serve immediately over pasta or rice.

Yield: 4 servings

Find more great CrabPlace.com recipes and reviews on Facebook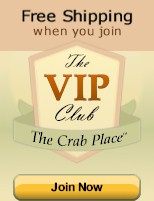 Free Shipping on
Scallops
when you Join
$20 Off All Air Orders
Exclusive Deals & Discounts

It's Why So Many Trust Us for Fantastic Seafood

Bread Crumb Scallops