Solomon's Crab Stew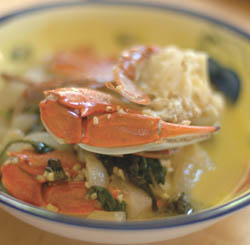 1 dozen steamed blue crabs
½ cup finely chopped celery
1 tablespoon finely chopped onion or chives
3 tablespoons butter
1 10¾ ounce can cream of mushroom soup, undiluted
1 cup milk
salt and pepper to taste
1 to 2 teaspoons cooking sherry
lemon slices
Remove meat from bodies and claws of crabs.
Saute celery and onion in butter. Add crab meat, mushroom soup, and milk. Cook over low heat for 15 to 20 minutes, stirring frequently. Season to taste with salt and pepper.
Before serving, add sherry. Garnish with lemon slices.
Yields 4 servings.